Sarah Jane (Densmore) Jessup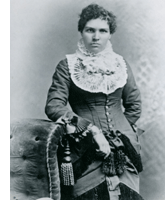 For information on Sarah Jane's forbears, please see see the Lucy Amy (Wheeler) Densmore biography.
For information on her descendants, please see the Harry Clifford Garwood Jessup biography.
At the time Jane met her future husband, Harry Jessup, she and her mother had a dressmaking shop in Old Tucson (Arizona). She made the dress that can be seen in the photo to the right. That was the dress that she was married in.
Jane married Harry Clifford Garwood Jessup in 1883 while they both were living in Arizona. Their children were as follows:
1. Claribel Maud Jessup Renoud. Born December 12, 1883 or 1884.
2. Lucy Amy Jessup Curtis. Born February 4, 1887.
3. Edgar Briggs Jessup. Born March 29, 1889.
In 1885, Jane and her husband left Tubac, Arizona because of Indian trouble. Geronimo was on the warpath that year. Jane's family arrived in the San Miguel area in 1886 and were among the area's early homesteaders. Their homesteads were in Indian Valley, over the county line (in Monterey County) to the north of San Miguel.
When she was middle-aged, Jane began suffering from kidney disease. After several years, she died from that condition in 1912 at the age of 50.
| | |
| --- | --- |
| Parents: | Lucy Amy (Wheeler) Densmore (1827 - 1917) |
Created by:

John D. Curtis
Martinez, California
E-Mail