Margot Ruth (Work) Curtis
Margot Curtis The Modoc Record - Obituaries September 28, 2006
Margot Curtis passed away at her home in Alturas on September 21, 2006. She was 81 years of age.
Margot was born on December 4, 1924, in Paso Robles, CA. Her parents were Robert and Margaret Work who ranched in the San Miguel area.
Margot attended Ellis School, a one-room country schoolhouse (now gone) in the San Miguel area. She then attended Paso Robles High School.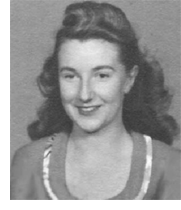 Upon completion of high school, Margot attended San Luis Obispo Junior College. After two years, she transferred to Pomona College and majored in marine biology. She did work during the summers at Stanford University's Hopkins Marine Station in Pacific Grove under the tutelage of Dr. Dixie Lee Ray, later Chair of the Atomic Energy Commission and Governor of Washington. Margot graduated from Pomona at the age of 19.
On November 17, 1944, at the Congregational Church in Paso Robles, Margot married John P. Curtis, who she had known since grammar school. John was serving in the U.S. Navy (Pacific Theatre) during World War II. After their marriage, he returned to sea, while Margot took a job as principal and teacher at the Almond Acres Pre-school in San Miguel. When John returned from the service at the end of World War II, he and Margot resided on the Work Ranch in Hog Canyon, where John did the farming for Margot's parents for the next 10 years. In 1954, Margot and John moved into a newly-constructed house on their own ranch in Indian Valley. Margot both designed and prepared the blue prints for the new house.
In 1968, Margot and her family bought and operated a cattle ranch on Lemhi Pass outside of Dillon, Montana, which they subsequently sold in 1972. While living in the Dillon area, Margot was an active Girl Scout leader, became an avid golfer, and broadened her art skills through classes at Western Montana College.
In 1977, Margot and John moved to Davis Creek where they ranched with their son, Sean Curtis. Margot continued her love of golf by participating in the local women's golf association and pursued the development of her watercolor skills by attending numerous workshops. She loved to enter her artwork and flower arrangements in the Modoc County Fair, winning numerous awards and sweepstakes.
In 1986, Margot became the Davis Creek Branch Library Associate and continued in that role until 2005, when she fulfilled her promise to retire when she turned 80 years old. She was an Alturas Library Assistant from 1989 until 1992, and volunteered as an ESL and reading tutor for adults.
In 1987, Margot and John retired to Alturas. A life-long artist, Margot began teaching Lassen Community College extension art classes in Alturas in 1990, an activity she continued until last year. She was also an active volunteer at the Art Center in Alturas, where she both exhibited and sold her paintings, sculptures and pottery. In 1994, the building which housed the Art Center, was put up for sale by the previous owner. Fearing that a new owner would evict the Art Center from the building, two of Margot's aunts bought the building. They gradually transferred ownership of the building to her over the ensuing years.
Margot is survived by her husband, John P. Curtis of Alturas, CA and her four children:
1. John D. "Jack" Curtis of Martinez, CA;
2. Sean Curtis of Alturas, CA;
3. Dr. Mary C. Curtis of Iowa City, Iowa;
4. Deirdre (Curtis) Hill of Cedarville, CA.
She also has two grandchildren, John Hill and Alice Hill, age 16 of Cedarville. Her sisters and brother also survive her: Roberta Work Turcott of Yakima, WA; Johnita Work Fisher of Lancaster, CA; and George Work of San Miguel, CA.
A memorial service for Margot is scheduled for Saturday, October 21 at the Federated Church in Alturas at 11 a.m. Conversation and a potluck luncheon will follow in the Fellowship Hall. Photographs and Margot's works of art will be on display.
Parents:

Robertson Rhodes Work (1895 - 1988)
Anna Margaret (Huston) Work (1902 - 1976)

Spouse:

John P. Curtis (1921 - 2009)

Children:

John D. "Jack" Curtis
Sean Curtis
Dr. Mary C. Curtis
Deirdre Curtis Hill

Siblings:

Margot Ruth (Work) Curtis (1924 - 2006)
Roberta Jean (Work) Turcott (1928 - 2009)
Johnita Ann (Work) Fisher (1930 - 20

Birth:

Dec. 4, 1924
Paso Robles
San Luis Obispo County
California, USA

Death:

Sep. 21, 2006
Alturas Modoc County
California, USA

Burial:

Alturas Cemetery
Alturas
Modoc County
California, USA
Created by:

John D. Curtis
Martinez, California
E-Mail