Harry Clifford Garwood Jessup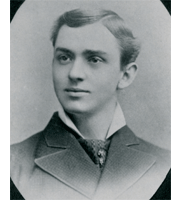 Harry Jessup was born on August 9, 1858 in Cincinnati, Ohio. He is the son of the following couple:
1. Dr. Thomas C. Jessup. Born between 1834 - 1836 (Virginia). Died 29 May 1899 in San Francisco, California.
2. Isabella Wallace Alexander Hart Jessup Born 1818 (per tombstone) in Ohio. Actual date was closer to 1810. She used various dates during her life. Died May 14, 1883 in Cincinnati, Ohio.
They were married October 25, 1855. However, Isabella was a widow who had previously been married to Frederick Crummell Hart. The children by that marriage (half-brothers and half-sisters to Harry) were:
1. William (Will) F. Hart. Born in 1841.
2. Isabella (Belle) Hart. Born in 1844.
3. Mary Hart. Born in 1845 or 1846.
4. Frederic Crummell Hart. 1850. Died age 2.
5. John L. Hart. Born in 1851.
After the marriage between Dr. Thomas and Isabella dissolved, he moved to San Francisco and married Elizabeth "Lizzie" Hamilton circa 1869. Their children were:
1. Mabel L. Jessup. Born November 1872 in San Francisco.
2. Douglas C. Jessup. Born 1874 (approx.) in San Francisco.
3. Eulalie (Eulie) Jessup. Born April 1878 in San Francisco.
When Harry grew up, he married Sarah Jane Densmore. Their children were:
1. Claribel Maud Jessup Renoud. Born December 12, 1883 or 1884.
2. Lucy Amy Jessup Curtis. Born February 4, 1887.
3. Edgar Briggs Jessup. Born March 29, 1889.
Harry and Jane initially made their home in Arizona where Harry was the Constable of Tubac. He may have known one or more of his fellow lawmen, the Earp Brothers, in nearby Tombstone. When Geronimo was on the warpath in 1885, Harry and Jane left Tubac as did all but three white families who lived there at the time.
When the area around San Miguel, California was thrown open to homesteading, Harry moved his family to Indian Valley in the very southern part of Monterey County in California. He, his wife and her mother all took up 160 acre homesteads or preemptions in 1886.
In 1889, three years later, Harry died. He was young, only 31. He died of consumption (tuberculosis). It was winter and the weather was so severe and the roads were in such bad condition that his wife could not transport his body to the cemetery in San Miguel. She buried him on his homestead in the east hills of Indian Valley. For the exact location, contact John D. Curtis. E-Mail
Parents:

Thomas C. Jessup (____ - 1899)
Isabella W Alexander Hart Jessup (1818 - 1883)

Spouse:

Sarah Jane Densmore Jessup (1861 - 1912)

Children:

Clarabell Maud Jessup Renoud (1883 - 1976)
Lucy Amy (Jessup) Curtis (1887 - 1966)
Edgar B Jessup (1890 - 1961)

Siblings:

William F Hart (1841 - 1916)
Frederic Crummell Hart (1850 - 1852)
John L Hart (1852 - 1905)
Harry Clifford Garwood Jessup (1858 - 1889)

Birth:

August 9, 1858
Cincinnati, Hamilton County
Ohio, USA

Death:

Dec. 29, 1889
Monterey County
California, USA

Burial:

Jessup Family Cemetery (Indian Valley)
Monterey County
California, USA
Plot: Section 1, Row 1
Created by:

John D. Curtis
Martinez, California
E-Mail