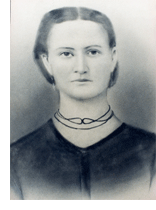 Please note that other branches of the family use the spelling Rhoades instead of Rhodes -- which is the spelling that our branch uses.
Matilda Cecelia Rhodes was born near the town of Center in Ralls County, Missouri on December 16, 1843. Her parents were:
1. Charles Rhoades who was born around 1806 (exact date unknown). Charles was gunned down four months after Matilda was born in December of 1843 in a dispute over a fence line.
2. Catherine "Kitty" Leake Rhoades. She was born November 23, 1806. She died on December 23rd, 1843 of childbirth complications -- one week after Matilda was borne.
Matilda was raised by her Roman Catholic grandparents on their Missouri plantation with the help of their slaves. The grandparents were as follows:
1. Raphael Leake . Born September 18, 1785.
2. Helen (Elon) Medley Leake. Born February 16, 1787.
Matilda and her sister Caroline married brothers. Caroline married Rees Jones. Matilda married his brother John Thomas Jones. Matilda and John married in Edina, Knox County, Missouri on December 3, 1861. Their children were as follows:
1. Infant (probably named Charles). Born August 31, 1862 or more likely February 10, 1863. Died one month later on March 10, 1863.
2. Caroline (Carrie) Belle Jones was born October 17, 1863. She later became Mrs. Frank Lowe of San Miguel, California.
3. Alexander (Alec) Oliver Jones was born June 4, 1866. He later married Viola Mae Redmond, sister of the famous artist, Granville Redmond
4. Martha (Mattie) Hester Jones was born February 14, 1872. She became Mrs. John R. Work of San Miguel, California and later of Pacific Grove, California.
After the death of her husband, Matilda remarried in 1912 at the age of 67. Her new husband was John L. Hanna. Divorce proceedings were initiated in 1923, approved by the court in 1924, but the record on finalization cannot be found.
Matilda died in 1927 at the age of 83.
There is a 17 page biography on Matilda -- who led an exceptionally interesting life. Contact family members for a copy. Her lineage goes back to James "Rebel" Leake whose biography can be found on the internet.
Parents:

Charles Rhodes (1798 - 1844)
Catherine Leake Rhodes (1806 - 1843)

Spouse:

John Thomas Jones (1833 - 1901)

Children:

Caroline Belle Jones Lowe (1863 - 1945)
Alexander Oliver Jones (1866 - 1897)*
Martha Hester Jones Work (1872 - 1960)

Siblings:

San Miguel District Cemetery
San Miguel
San Luis Obispo County
California, USA
Plot: F.E. Lowe Plat. Grave 5 counting from south to north in same grave as infant Bryan Lowe

Birth:

December 16, 1843
Ralls County
Missouri, USA

Death:

April 26, 1927
San Miguel
San Luis Obispo County
California, USA

Burial:

San Miguel District Cemetery
San Miguel
San Luis Obispo County
California, USA
Plot: F.E. Lowe Plat. Grave 5 counting from south to north in same grave as infant Bryan Lowe
Created by:

John D. Curtis
Martinez, California
E-Mail