Lucy Amy (Wheeler) Densmore
Lucy Amy Wheeler was born in Connecticut on December 25, 1827.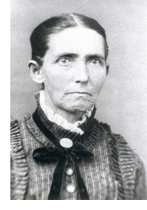 Her parents are the following couple: 1. Timothy Wheeler. Born circa 1790 in Connecticut. 2. Sara Keeler (or Keller).
Timothy and Sarah were married in April of 1814. Their children were as follows: 1. John Marlin Wheeler. Born circa 1818. 2. Mary Ann (or Anne) Wheeler. Later Mrs. M.A. Leflar. Born in November 1821. 3. Iry (Ira) Bradley Wheeler . Born in 1825. 4. Lucy Amy Wheeler. Later Mrs. Azro Densmore. Born December 25, 1827. All the children were born in Connecticut.
The Wheelers then moved before 1840 to Lysander Township in Onondaga County, New York. Timothy is believed to have died shortly thereafter.
Iry and Lucy then moved to Wisconsin to engage in the lumber business. There Lucy met her brother's friend, Azro Densmore. Azro had been born on February 20, 1823 in Vermont.
Lucy and Azro were married in 1853. Their children were as follows: 1. Jason Fletcher Densmore. Born September 5, 1854. 2. Roey Carline (or Caroline) Densmore. Born October 30, 1857. 3. Sarah Jane Densmore. Later Mrs. Harry Jessup. Born July 11, 1861. Jason was born in Wisconsin. Caroline was born near Omaha, Nebraska.
Jane was born near Council Bluffs, Iowa. Jason never married. Caroline died at age 12 of appendicitis.
By that time, the family had moved to Missouri. Azro may have died in Missouri also.
Lucy and her children, Jason and Jane, next moved to San Diego, California. By the early 1880s, they had moved to Tucson, Arizona. There Jane married Harry Clifford Garwood, the Constable of Tubac, Arizona.
They married in February of 1883. From Arizona they next moved to Oregon around 1885. From there, they moved to Indian Valley in Southern Monterey County. Their children were: 1. Claribelle Maude Jessup (later Renoud). Born December 12, 1884. 2. Lucy Amy Jessup. Later Mrs. I.T. Curtis. Born February 4, 1887. 3. Edgar Briggs Jessup. Born March 29, 1889. Maude was born in Arizona. The other two children were born in Monterey County.
Parents:

Timothy Wheeler. Born circa 1790 in Connecticut
Sara Keeler (or Keller)

Spouse:

Azro Densmore, They were married in 1853

Children:

Jason Fletcher Densmore. Born September 5, 1854.
Roey Carline (or Caroline) Densmore. Born October 30, 1857
Sarah Jane Densmore. Later Mrs. Harry Jessup. Born July 11, 1861

Birth:

December 25, 1827
Connecticut, USA

Death:

March 26, 1917
Monterey County, California, USA

Burial:

San Miguel District Cemetery
San Miguel
San Luis Obispo County California, USA Densmore Plot
Created by:

John D. Curtis
Martinez, California
E-Mail