Mrs. Sarah E. Shedd Dead
Mrs. Sarah E. Shedd, 78 of 1701 Hands, died at her home this morning.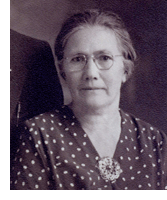 A native of Wheatville, Wisconsin, Mrs. Shedd had lived here for 14 years. She was a member of the Gudgell Park R.L.D.S. Church.
Surviving are her husband, Manley R. Shedd of the home; four daughters, Mrs. Lola Smith, of the home; Mrs. Louisa Wheeler, 1805 South Pearl; Mrs. June Ragland, 14209 East 35th Street and Mrs. Harriett Mair Calumet, Illinois, four sons, LeRoy Shedd, Pleasant Hill; Lawrence and Lyle Shedd, both of Columbia, Missouri, and L. Robert Shedd, 1403 North Spring; 25 grandchildren and eight great-grandchildren.
Shedd Rites Thursday
Funeral services for Mrs. Sarah E. Shedd, 78, of 1701 Hands, will be held at 10:00 AM, Thursday, at the Speaks chapel. Burial will be in Oak Ridge Memorial Gardens. The family will receive friends from 7:00 to 9:00 PM, Wednesday, at the chapel.