Biographical Sketch of Andrew Valentine Closson
Andrew Valentine was born on 2/22/1862 in Crawford County, Scott, Wisconsin. He died in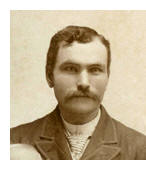 Independence, Missouri on 11/23/1922, he was 60. He was the son of Claes Eric Closson Born on 6/10/1822 in Alfta Gefle, Sweden and Marta Linston (AKA Martha Mary Livingston) Born on 1/19/1822 in Lingsta, Jattendall, Margta, Sweden.
Andrew V. Closson was baptized into thee RLDS (Community of Christ) Church by William Savage, ordained an elder, and served the Excelsior branch as president. He was later ordained a seventy and still later a high priest.
He married Mary Alida Brown, a convert to the church on 4/4/1886. Mary was born on 9/20/1867 in Reading, Ma. She died in Independence, Missouri on 8/4/1955, she was 87. They became the parents of four children - Virgie, Glen, Clarice G., and Ola. Andrew was an active missionary in Wisconsin before moving to Independence.
At the Frankfort Branch (Porcupine, Wisconsin) he became the second branch president in 1895, serving until 1900.
After the membership reached fifty the Saints decided to Build a church. Jim Shaw, a nonmember, donated the ground. His brother, Isaiah Shaw, gave two thousand feet of logs to be sawed into lumber. Andrew Closson was a good carpenter and offered his services along with others. Rock for the foundation was quarried from the Joseph Heath farm, and Joseph Warren also contributed logs to be cut at the sawmill. The seats were designed and made by Andrew Closson. A bell was purchased from the Catholic Church at Eau Galle, Wisconsin. When the stoves were set up and the kerosene lamps hung the church was ready after two years of work and sacrifice.