Biographical Sketch of Claes Eric Closson & Marta Linston
Claes Eric Closson. Born on 6/10/1822 in Alfta Gefle, Sweden. Claes Eric died in Porcupine, Wisconsin on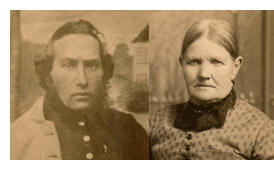 11/6/1899, he was 77. Buried in Porcupine, Wisconsin.
Marta Linston (AKA Martha Mary Livingston), daughter of Anders (Andrew) Lingsten & Brita Ersdotter, in Bergsja, Gefle, Sweden. Born on 1/19/1822 in Lingsta, Jattendall, Margta, Sweden. Martha Mary died in Independence, Missouri on 6/3/1902, she was 80. Buried in Woodlawn Cemetery.
Claes Eric Closson & Marta Linston were married On 12/17/1848.
They received Pasports in Gavle, June 16, 1849 and sailed from Gavle, Sweden on the "Pehr". They arrived in New York 11/10/1849 and moved to Chicago, Illinois. His occupation is listed as "Dyer".
They made their home first in Chicago, then lived in Kane County, Illinois, until 1855. In that year the family started west with an ox team. After weeks of travel they arrived in Crawford County, Wisconsin where they purchased land in what is now known as the town of Scott.
In 1862 Clossey Closson enlisted in an army of the Civil War, serving until the war ended and he was honorably discharged. Upon returning home, happy to again be with his family, he resumed farming.
In 1866 the Clossons moved across the county line to Akan, Richland County. Here Clossey served as a member of the town board, as assessor for four years, and as town treasurer twelve years.