Biographical Sketch of Sally (Morse) Shedd
Sally Morse was Born on 1/23/1843 in Wyoming County, New York. She died in Porcupine, Wisconsin on 7/6/1904, she was 61. She is buried in Round Hill Cemetery, Arkansaw, Wisconsin.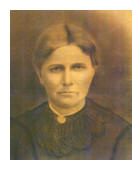 She was baptized RLDS 3/4/1894 at Frankfort Branch (Porcupine), Wisconsin. She was the mother of the two young men who asked the elders to preach at Porcupine. During the year thirty-two were baptized. These baptisms took place in Porcupine Creek, a little stream about two feet deep except for a few deep holes which had been dug out for swimming.
On 3/14/1859 when Sally was 16, she married William Nelson Shedd, son of William Shedd (1799-) & Abigail Estabrooks. He was born on 12/12/1834 in Tompkins County, New York. William Nelson died in Arkansaw, Wisconsin on 4/11/1893, he was 58. He is also buried in Round Hill Cemetery.