Esther Lampman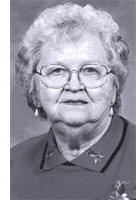 Esther M. Lampman, age 85, of Eau Claire passed away peacefully Tuesday, Feb. 26, at her home.
Esther was born at home on May 12, 1922, to the late Lauritz M. and Olga (Larson) Nelson in the town of Dover, New Auburn. She grew up on the family farm and attended school through the eighth grade. At the age of 16, Esther left home to work as a maid for several years in the St. Paul-Minneapolis area. Upon returning to Eau Claire, she worked for Dr. Frederick Midelfort in a similar position. On February 18, 1943, she married Dale Lampman in Cheyenne, Wyo. While Dale was stationed overseas, she worked at the paper mill in Eau Claire. After the war, Dale and Esther farmed in Colfax and lived in Green Bay, Albert Lea, Minn., and Medford. Following their retirement, they lived in Chetek and later moved to Eau Claire. Esther enjoyed spending 10 years in Apache Junction, Ariz., as a snowbird. On Feb. 18, Esther and Dale celebrated their 65th wedding anniversary.
She is survived by her husband, Dale; children, Linda (Larry) Kolbrak of Chippewa Falls, Greg (Donna) Lampman of Eleva and Donna Ress of Eau Claire; grandchildren, Jonathan (Christa) Kolbrak, Emma (Nathan and daughter, Annabel) Maas, Heather (Tony) McDonald, Heath (Carrie) Lampman and Nicky Ress; great-grandchildren, Kayla and Alexis McDonald, Gabriel Lampman; sisters, Erma Witta of Eau Claire and Sybil Moe of Chetek; nieces and nephews.
She is preceded in death by an infant son, Jeffrey; brothers, Franklin and Johnny Nelson.
Funeral services will be at noon on Saturday, March 1, 2008, at Hope Lutheran Church (Corner of Starr Avenue and Eddy Lane) with the Reverend Randy Olson officiating. Family will receive friends one hour prior to the service at the church. Interment will be at a later date.
Evergreen Funeral Home is serving the family.