Arden George Wheeler


October 9, 1926 - February 21, 2009

Memorial services are 2:00 p.m. today (Wednesday), in Cantlon Otterness Funeral Chapel in Urbana, Missouri. Cremation rites have been accorded. Burial will be at a later date at Pleasant Ridge Cemetery.

Arden Ge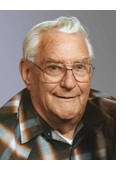 orge Wheeler was born October 9, 1926, in Bay City, Wisconsin, the son of Marlin and Elsie (Beatty) Wheeler. He died February 21, 2009, at his home near Urbana, Missouri, at the age of 82 years, 4 months and 12 days.
He spent his early years in Wisconsin, attending school in both Hicks Valley and Pepin. Following his schooling he answered the call of his country, serving in the U.S. Navy during the latter part of World War II.
Upon returning home he began a lifelong career working for Allis Chalmers Machinery Company as a diesel and sales engineer. During his career with Allis Chalmers he lived in Wisconsin, Texas, Arizona and Colorado.
Upon his retirement he moved to Urbana, where he resided at his death.
He was an avid hunter and fisherman and actively pursued these interests in the various areas where he lived. He was a member of the Eagles Lodge and the Urbana First Baptist Church.
He was preceded in death by his parents; his wife, Esther; two brothers: Winston and Lyle Wheeler; one sister, Mardella Ihde; and several nieces and nephews.
Survivors include his nieces and nephews; and other family and friends who will all miss him.