Margaret C. Morris
Obituary
A memorial service for Margaret C. Morris of Bellevue will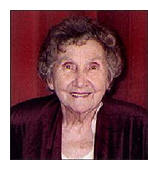 be held Aug. 29 at 11 AM at First Presbyterian Church, Bellevue. She died Aug. 21, 2009 at the age of 98.
She was preceded in death by her husband, Harley Andrew Morris, Sr., two brothers and one sister.
Survivors are her children, Harley Morris Sr. and Mrs. Carol Jean Wheeler, both of Independence, Mo., Mrs. Casey Spring of Bellevue; 15 grandchildren, 32 great-grandchildren, 9 great-great grandchildren.
Donations are suggested to Bellevue Volunteer Fire and Rescue and Bellevue Habitat for Humanity.
The Bellevue Leader August 25, 2009