Mardella Elsie Ihde
(September 25, 1924 - November 3, 2007)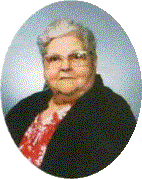 Funeral services for Mardella Ihde will be held Wednesday November 7th at 10:00 AM at Calvary Baptist Church in Rochester with the Rev. Dwight LaPine officiating. Burial will follow at Oakwood Cemetery. Mrs. Ihde, 83, of Rochester, died Saturday November 3, 2007 at Rysella Foster Care in Rochester.
Mardella Elsie Wheeler was born September 25, 1924 in Wabasha. Raised in Pepin, Wisconsin, she was a graduate of Pepin High School in 1942, She received her teaching certificate from Buffalo County (Wise.) Normal School She married Leonard Ihde on September 25, 1946. A schoolteacher, she enjoyed children, especially teaching them how to read. She loved crafts, especially crochet.
She was a member of Calvary Baptist Church and the Red Hat Club.
Mrs. Ihde is survived by her sons, Roger Ihde & his wife Janette, Martin Ihde & his wife Patricia, and Lyle Ihde & his wife Linda; grandchildren, Margo Ihde, Luke Ihde, Colleen Watson & her husband Ross, Joshua Ihde & his wife Jesse, Melendy Voight & her husband Gabe, Sheila Vokoun & her husband Mike, Diana Goembel & her husband Todd, Alan Ihde & his wife Becky, Darren Ihde, Layne Ihde & his wife Erin, Laurel Sprang & her husband Mike, Linnea Wells & her husband Bryon, and Landon Ihde & his wife Heather; great-grandchildren.,, Luke's children - Kaleb, Ryan, and Alyssa, Colleen and Ross's children - Derek & Brodrick; Joshua & Jesse's daughter - Stella, Sheila & Mike's children - Nathaniel, Nicholas, & Neil, Diana & Todd's daughter - Megan, Alan & Becky's children - Jacob, Breanna, & Zaehery, Laurel & Mike's children - William & Meghan, and Linnea & Bryon's children - Noah & Samuel. Also surviving is Mardella's brother, Arden Wheeler.
She was preceded in death by her husband, a son, 2 brothers, a sister, and a great-grandchild.
Friends may call Tuesday from 4:00 to 7:00 PM at Ranfranz and Vine Funeral Homes. The visitation will continue one hour prior to services at the church on Wednesday.