Biographical Sketch of James Clinton Fleming Family
James Clinton Fleming 11 May 1879 - 20 Oct 1908 (death due to extensive burns). Mable (Balliett) Fleming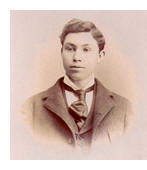 and her boys moved to California in 1923 by way of a Model "T" caravan.
On 27 Dec 1927 in Pomona, CA she was remarried to Elmer Eugene St.Clair.
James Fleming was a dentist. His son "Clint" became a veterinarian, and married Carrie Jahnke of Pepin. They lived in Dawson, MN and had three children, James III, Betty, and Dorothy.
Betty's daughter, Leslie Tippets also dabbles in family history and genealogy.
His son "Jack" lived in S. Laguna, Orange county, CA. He had one daughter, Joyce (Fleming) (Starcher)Seymore. His son "Dick" lived in Riverside, CA - was an owner, operator, manager of orange (citrus) groves. He had two daughters, Barbara (Fleming) (Hunter) Lopez and Carol (Fleming) Gyorgyfalvy.