Day 13

Disembark ship

Explore Stockholm, Sweden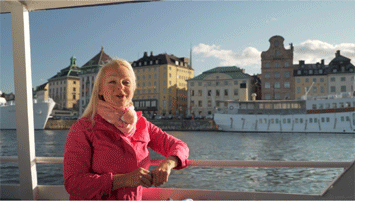 Activity Note: The walking tour of Gamla Stan is approximately 1 mile on cobblestone streets, requiring good balance.
Breakfast: From 7:30am-9am onboard, with international and American options available.
Morning: After packing up and leaving your cabin, you'll gather with your Trip Experience Leader around 9am for a Port Talk on Stockholm prior to your discoveries. From around 9:30am to 11am, you'll enjoy scenic sailing as we cruise toward Stockholm. The sun deck is a great spot to soak in the vistas as we approach the city.
Upon docking around 11am, we'll bid goodbye to the ship and the crew as we disembark the ship for a city tour of Stockholm. Sweden's capital city, an archipelago within an archipelago,occupies a cluster of 14 islands floating among 24,000 that make up a 60-mile chain.
Our tour begins at around 11:30am when we arrive by motorcoach at Stadshuset, the romantic City Hall building famous for hosting the annual Nobel Prize banquet, which your Trip Experience Leader will discuss in detail as your explore. Designed in 1923, City Hall was constructed using eight million red bricks and 19 million chips of gilt mosaic. The Stadshuset is not just the city's seat of government, but is also a national symbol, as the building's 300-foot tower, topped with three golden crowns that represent Sweden's coat of arms, will attest.
Following your explorations of City Hall, take some time for quick souvenir shopping before we head to lunch. Lunch: Included at a restaurant in City Hall, complete with a host of regional options.
Afternoon: After lunch, we resume our tour and set off to Gamla Stan by motorcoach, Stockholm's Old Town nestled at the heart of this great city. We'll arrive at around 2:45pm for an approximate 45-minute walking tour through the labyrinth of cobbled streets. While the mighty Royal Palace dominates much of the Gamla Stan, there's still so much more to do and see. The picturesque isle is a labyrinth of narrow alleyways and staircases, home to antique shops, museums, statues, and churches.
The Stortorget (the "Big Square"), is the city's oldest square and site of the infamous Stockholm Bloodbath. Denmark—under the rule of King Christian II—invaded Sweden in 1520 and took the country for its own. Shortly thereafter, Christian rounded up all those who had challenged his rule and on November 8 and 9, he executed more than 80 Swedish nobles in the Big Square. According to legend, rivers of blood rushed through the streets. Today, the Stortorget is a brightly-colored square, home to a handful of cafés, the Stock Exchange, and an annual Christmas market.
Around 3:30pm, you'll have free time to explore the ancient city on your own. Experience the gilded 15th-century sculpture of St. George at the Storkyrkan Church, or visit the Nobel Prize Museum to learn about the most prestigious award in the world, the world-changing ideas that have earned the prize, and its founder Alfred Nobel. Or, you can take this time to relax and grab a seat at a local cafe to observe everyday life, or peruse the shops for a last-minute souvenir.
Around 4:30pm, we'll transfer to our hotel by motorcoach and settle in. Depending on where we stay, your hotel may feature a restaurant, bar, and gym; and each room will include a safe, a television, complimentary Internet access, hair dryer, and private bath. The rest of the afternoon is yours to lounge in the hotel or continue your explorations of Stockholm. Your Trip Experience Leader will be at the hotel's hospitality desk between 5:30pm-6:30pm to provide assistance with your boarding pass for your flight home.
Dinner: From 7pm-9pm at your hotel, you'll enjoy another Farewell Dinner with your travel companions and Trip Experience Leader. While the dress code at mealtimes is always relaxed and smart casual, some travelers opt to wear a day dress or slacks for the Farewell Dinner.
Evening: You have the freedom to spend the rest of your evening as you wish. You may want to rest for your flight tomorrow.