Day 12

Explore Helsinki, Finland

Captain's Farewell Dinner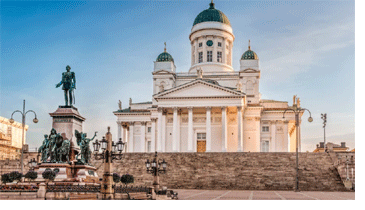 Breakfast: From 7:30am-9am onboard, with international and American options available.
Morning: Our ship's small size allows us to dock in the heart of Helsinki. At around 9am, we'll board a motorcoach and set off on an included tour. As we wind our way through the city, we'll notice how the sea is an integral part of Helsinki—the city spreads out onto islands, peninsulas, and along coves among which boats of all types navigate.
First, we'll stop at the Sibelius Monument, a statue made of hundreds of metal pipes that commemorates the renowned composer Jean Sibelius, for a photo opportunity. Since it was first built in the 1960s, the monument has sparked debate among music lovers; the pipes seem to resemble those of an organ despite Sibelius writing little to no pieces for the organ itself. Beyond the controversy, the Sibelius Monument is a wonder to behold, capturing the highs and lows of Sibelius' intricate musical compositions in a single structure.
Next, around 10am, we'll drive to the new Oodi public library, known as the "living room of the city." Upon arrival at around 10:30am, we'll explore this uniquely designed building for about 30 minutes. Oodi not only serves as a library, but as a meeting place for Helsinki residents. Take time to observe local life happening around you as you make your way through the building.
At around 11am, we'll head back to the bus to drive the approximate half mile to Senate Square, arriving at around 11:30am for a brief stop. Here, we'll discover many ornate Empire Neo-classical buildings, including the 19th-century Lutheran Cathedral, whose central tower dominates the city. Like Times Square in New York City, this is the place where residents gather to celebrate special occasions, such as New Year's Eve and Independence Day (December 6th).
We'll wrap up our tour in Helsinki's Market Square in the city center at around 11:45am. A lively area full of boutique and souvenir shops, vendors selling fresh produce and traditional Finnish fare, and colorful stands displaying artisan crafts, Market Square is perhaps the best way to immerse yourself in the sights and sounds of the city. We'll take about a 30-minute walk through the market, complete with our Trip Experience Leader's firsthand insight on the best stalls with crafts to buy or food to sample.
Lunch: Served buffet-style between 12:30pm-2pm onboard, with local and international options available. Travelers who chose to stay in the market can try local favorites like salmon soup with rye bread.
Afternoon: Around 2pm, you're free to make your own discoveries. Perhaps you'll take a stroll through Helsinki's design district with your Trip Experience Leader. Located in the center of the city, the area is home to the works of Helsinki's most creative minds, featuring an array of art galleries, antique shops, fashion stores, and showrooms. You may also want to return to Market Square to mingle with local vendors and snack on staples like smoked fish and fresh berries. Return to the ship by 4:30pm.
At around 5pm, the ship will set sail to Stockholm. As we sail, you can enjoy some free time to relax after your day of discoveries. Then join your fellow travelers and Trip Experience Leader for a Captain's Farewell Drink around 6pm. Your Trip Experience Leader will also say a few words about the experience and toast to a successful journey. As they say in Sweden, "Skål!" ("Cheers!").
Dinner: Between 7pm-9pm, enjoy the Captain's Farewell Dinner onboard in the ship's dining room. While the dress code at mealtimes is always relaxed and smart casual, some travelers opt to wear a day dress or slacks for the Farewell Dinner.
Evening: You have the freedom to spend the rest of your evening as you wish. Perhaps you'll enjoy a nightcap at the bar or relax in the lounge as we set sail for Stockholm, Sweden.