Day 11

Discover Tallinn's Song Festival Grounds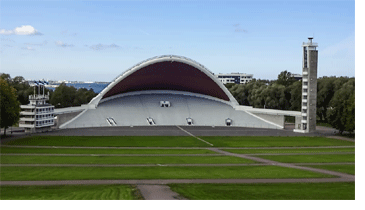 Breakfast: From 7am-9am onboard, with international and American options available.
Morning: At around 9am, we'll drive by private motorcoach to the Song Festival Grounds: the stage where the historic musical demonstration against Soviet occupation took place. We'll meet with a local guide to discuss the details of the revolution and the choral traditions of Estonia, including a conversation about the "five patriotic songs" series sung at the Old Town Festival, produced by composer Alo Mattiisen in 1988.
At around 11:15am, we'll board our private motorcoach; you have the choice to either return to the ship, or be dropped off downtown for further free exploration of Tallinn.
Lunch: Served onboard from 12pm to 1:30pm. If you've elected to remain in the city, your Trip Experience Leader can recommend options for your independent meal.
Afternoon: For travelers who chose to return to the ship for lunch, shuttle service is available at 1:45pm to return to Tallinn's Old Town. Here, you may choose to join your Trip Experience Leader for an elective walk to the city's upper town, where we'll get panoramic views of our new surroundings from a viewing platform. A shuttle bus will be available to return us back to the ship later this afternoon.
At around 4pm, the ship will lift anchor and begin its journey to Helsinki, Finland. Join your Trip Experience Leader at 5pm for a Port Talk about this Finnish capital. We'll dock in the city at around 6pm.
Dinner: Served onboard from around 6:30pm to 8pm.
Evening: You have the freedom to spend the rest of your evening as you wish. Perhaps you'll enjoy a nightcap at the bar or relax in the lounge. Or, join your Trip Experience Leader for a short walk in Helsinki from 8pm to 9pm.