Day 9

Riga

Optional Latvian Open-Air Museum tour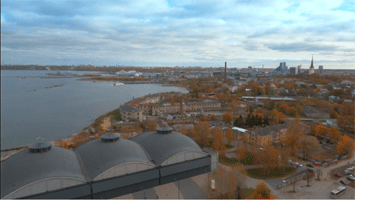 Breakfast: From 7am-8:30am onboard, with international and American options available.
Morning: Your morning is free to explore Riga at your own pace. You might return to one of the sites visited on your motorcoach tour, join your Trip Experience Leader for a walk through the city and conversation on locally-made products, or delve into the region's history as you explore sites like St. Peter's Cathedral. You may also want to immerse yourself in the city's artistic culture and build upon yesterday's discoveries at the museum of Art Nouveau, located in the former apartment of Latvian architect Konstantins Peksens. Or, explore other renowned museums like the Holocaust Museum, where you'll discover the tragedies of World War II and its impact on life in Latvia. You can also witness one of Latvia's hidden gems during a train ride to Jurmala - a seaside town with miles of sandy beaches - alongside your Trip Experience Leader.
Or, join us for our optional half-day excursion to the Latvian Open-Air Museum, located on the banks of Riga's Lake Jugla. Around 9:30am, we'll depart the ship for the approximate half-hour drive to one of the oldest and largest open-air museums in all of Europe. Upon arrival at around 10am, we'll meet with a local guide who will take us on a leisurely 90-minute stroll as we catch a glimpse of what life was like for farmers, craftsmen, and fishermen. Over 100 historical buildings dating from the 17th century all the way to the 1930s serve as snapshots of daily life for people in Riga. You'll learn how these people made their living, including viewing traditional tools of the time period. Cap off your discoveries at a traditional wooden Latvian church, originaly built in the 18th century.
Then, at around 1:45pm, enjoy about 45 minutes of free time in the surrounding area before returning to the ship around 3pm.
Lunch: You can enjoy an included lunch onboard the ship around 1:30pm, or grab lunch on your own in Riga during your day of independent exploration. Travelers who choose to go on the optional tour will have lunch at a local tavern around noon, complete with traditional music and folk dancing.
Afternoon: Rejoin your fellow travelers who discovered Riga on their own around 3:30pm onboard to set sail for Tallinn as you enjoy free time to relax.
Sit down with your Trip Experience Leader around 6:30pm for a Port Talk on Tallinn, a wonderfully preserved city of the old Hanseatic League. This ancient walled port on the Baltic Sea is a UNESCO World Heritage Site filled with remarkable fortresses, castles, and cathedrals. Medieval Tallinn is home to several towered gates, all bastion-forts complete with moats and drawbridges.
Dinner: Served around 7pm onboard in the ship's dining room.
Evening: You have the freedom to spend the rest of your evening as you wish. Perhaps you'll enjoy a nightcap at the bar or relax in the lounge.