Day 8

Explore Riga, Latvia

Controversial Topic: Latvia's ongoing recovery from Soviet occupation & modern-day threats to independence with Karina & Aija

Home-Hosted Dinner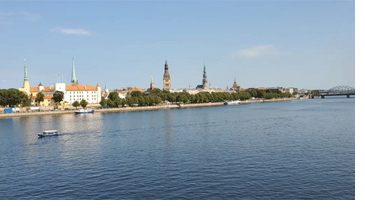 Exclusive O.A.T. Activity: This afternoon we'll venture into the home of a family in Riga, where we'll enjoy a Home-Hosted Dinner. This is a special opportunity afforded to us by our small group size and made by possible by the regional connections of our local Trip Experience Leaders. During our shared meal, you'll learn more about daily life in the capital city from these residents, and take part in the customs and culinary traditions of the region. Read more about this experience below.
Breakfast: From 7am-9am onboard, with international and American options available.
Morning: After a leisurely breakfast, we'll depart by private motorcoach around 10am for a 15-minute drive to the New Riga library. There, we'll split into smaller groups of no more than 25 travelers to learn about the Controversial Topic of Latvia's struggle to recover from Soviet occupation, as well as the continuous threats it faces from Russia. Thirty years have passed since Latvia declared independence, and today, we'll talk about the long road the nation has traveled to get here—and the forces which seek to derail it. Our meeting place is symbolic of this national effort, as it is the first modern structure to be built in Riga since parting ways from the Soviet Union. Today's conversation will be facilitated by one of two local experts: Karina Petersone and Aija Tamsone, each of whom will regale our smaller groups with their personal accounts to illustrate the oppression they and their families endured.
Karina is a former member of the Latvian Parliament, joining shortly after the Baltic nation declared independence in 1991. She is considered one of the many young politicians who led Latvia into a new era of prosperity and freedom. But this revolutionary political activism didn't start with her generation, of course. As we'll learn, Karina's grandfather was a democrat and freedom fighter seeking to liberate his country. Because of his affiliations and beliefs, Karina's family was persecuted by Soviet forces during the second occupation, even losing their home to the regime. During our conversation, Karina will recount what it was like growing up under such tyrannical and terrifying conditions, and we'll also learn how her experiences continue to fuel her activism today.
Like Karina, Aija's family was also directly impacted by Soviet forces when her aunt was deported to Siberia following World War II. This involuntary family separation lasted for almost two decades, until her aunt was finally able to return in the 1960s. Today, Aija works closely with the Latvian memorial center for occupation to document her aunt's memoirs of this harrowing time, in hopes that Soviet oppression and those who suffered are never forgotten.
As we learn about the family history of these two speakers, we'll also come to understand the political and economic events that gave way to such turmoil. Following World War II, the Baltic states were officially incorporated into the Soviet Union via military occupation and annexation. Over the decades, the Baltic states saw a sharp decline in trust and satisfaction with Soviet Union authorities—including former Soviet Union leader Mikhail Gorbachev, who attempted to boost the failing economy through controversial means, like rescinding limitations on political freedoms. In addition to questionable practices and an imbalance of freedoms, the Soviet-Afghan War and nuclear fallout in Chernobyl led to an even further degradation of trust between the Baltic states and Russia. Furthermore, non-Russian populations became increasingly concerned about the threat to their national identities posed by the migration of various ethnic groups. All of these factors combined culminated in mass demonstrations throughout the 1980s and into the 1990s, perhaps the most famous of which were the Singing Revolution of 1988, a mass signing demonstration, and the Baltic Chain of 1989, a demonstration in which more than 2 million Latvians, Estonians, and Lithuanians joined hands in a show of solidarity—a chain which ran the length of all three countries. By the end of the 1980s, pro-independence campaigns spread like wildfire throughout the Baltic states. After years of struggle—often met with violent resistance by Soviet Paratroopers, Latvia declared its independence on August 21, 1991.
Shortly after its liberation, Latvia severed most political, economic and cultural ties with its hostile neighbor, sending clear signals that a new era was upon the region. Tensions with Russia brewed ever since, increasing exponentially when Latvia became a member of NATO on March 29, 2004. Citizens of Latvia—and throughout the Baltics—continue to carry their trauma, and for them, one question remains: is Russia still a threat? Some feel that it's time to move on, but many point to evidence that suggests otherwise, like the 2014 annexation of Crimea following the Ukrainian revolution. Concerned Latvians fear that this highly controversial (and most would say, illegal) move is an indication that Russia may be trying to repeat history. During our 1-hour conversation, we'll hear what Karina and Aija think about Russia's intentions and whether or not they worry about the future. After a 20-minute presentation, we'll open up the conversation to a 40-minute Q&A. Take this opportunity to ask questions about Karina's political activism and Aija's determination to preserve the stories of this turbulent period so that they may never happen again.
Around 11:30am, we'll depart the library for a 10-minute drive to the Art Noveau district of Riga. Situated near the mouth of the Daugava River, which travels from the Baltic Sea into Russia, Riga served as an important trade port for centuries. Its prosperity also made it a target for conquest: before Latvia declared itself an independent nation in 1918, Riga was claimed by Russia, Sweden, Lithuania, and Germany.
Upon our arrival around 11:45am, we'll set off on a roughly 20-minute walking tour of the Art Noveau district. Accompanied by a local guide, we'll explore facades from the early 20th-century period, during which architecture took a romantic turn in response to the Eclecticism and Revivalist architectural movements of the 19th century. Riga's Art Noveau buildings are identified by their blend of opulent decoration with practical structure, and are known for unique elements like tall stained glass windows and intricate sculptures. Your local guide will speak to the different styles nestled within the Art Noveau trend and how each is represented throughout the district.
We'll continue our discoveries around 12pm and drive about 10 minutes to the Old Town, passing through the city center. Along the way, we'll notice the influence of Soviet architecture here, as Riga's city center functioned as a manufacturing hub for the USSR during Latvia's Communist past. Our drive will also take us through a former Jewish ghetto, ruins of the former city wall, and the area's Byzantine-style Orthodox cathedral. We'll arrive in the Old Town at about 12:15pm, where we'll embark on an approximately 45-minute walking tour. As a diverse, thriving city with a prominent upper class, Riga experienced radical change under occupation by the Soviets and Nazis. Buildings from Riga's most prosperous eras still stand throughout the city. As we discover the ancient relics of the city, you may witness ancient sites like St. Peter's Church, built in the 15th century and Riga's oldest monument. Perhaps you'll also want to explore the Town Hall square that dates back to the 13th century and features unique Hanseatic architecture around every bend.
At about 12:45pm, we'll depart by private motorcoach for the 10-minute ride back to the ship for lunch.
Lunch: Served buffet-style from 1pm-2:30pm onboard, with local and international options available. You also have the option to stay in Old Town for lunch. This is a great time to try Latvia's traditional cuisine, such as pelmeni dumplings (often described as a cross between Polish pierogi and Italian tortellini) and karbonade—a type of pork that's flattened and fried.
Afternoon: From around 2:30pm-5:30pm, you have free time to relax on the ship and prepare for your local dinner tonight, or take one of the available shuttles to and from Riga's city center for further explorations. During this time, you also have the option to join your Trip Experience Leader for a walk to a local food market for a tasting of regional delicacies, as well as to peruse traditional Latvian arts and crafts. You might, for example, visit a local glassblower or stop by a chocolate stall to enjoy a sweet treat.
At around 5:30pm, our group will reconvene at the hotel and break into smaller groups to depart for a 30-minute private motorcoach ride to meet one of three or four local families from various walks of life. Together, we'll enjoy a Home-Hosted Dinner and get to know one another.
Dinner: Around 6pm in the home or apartment of a local family in Riga. We'll discuss what everyday life is like and gain a unique understanding of the city's culture over a traditional meal together. Riga is a spirited blend of old and new, with vestiges of Art Nouveau grandeur and cutting edge architecture at every turn. As we'll learn, this dichotomy is also apparent in local culture: a hip, cosmopolitan vibe informed by a turbulent, 800-year-heritage. While we dine, you might ask the family about ever-evolving traditions, such as what customs they practice or how they feel things are changing for the better (or worse). For example, you may like to discuss family dynamics and gender roles in Latvia—over the years, the role of woman as housekeeper and husband as provider has gradually become dismantled, creating more fluid family dynamics. Our meal this evening will consist of traditional dishes made with local organic produce. These dishes will vary; however, you can look forward to the Latvian staple of rupjmaize, a variety of rye bread commonly enjoyed by locals.
Evening: We'll depart around 8pm and return to the ship at roughly 8:30pm by private motorcoach, where we'll have the rest of the evening to rest and prepare for another day of discoveries.
Freedom to Explore Make the most of your explorations in Riga on these off-the-beaten path activities. These recommendations are designed by our team of local experts with women travelers in mind.
Walking with your Trip Experience Leader, learn about Latvia's troubling past at the Museum of the Occupation of Latvia: Uncover the history of Latvia's occupation, which lasted for 51 years - the Soviet Union from 1940-1941, Nazi Germany from 1941-1944, and then the Soviet Union again from 1944-1991. In the museum, visitors can view intergovernmental agreements and documents, photographs, and artifacts from a time of tragedy and totalitarian regimes. Gain a deeper understanding of the inhumane conditions Latvians were forced into, as well as their resistance against the occupying powers. The museum is home to nearly 60,000 items, plus an audiovisual archive of more than 2,300 testimonials from refugees and deportees.
How to get there: About a 20-minute walk with your Trip Experience Leader.
Hours: 11am-6pm, daily.
Cost: Admission by donation. Guided tours are available for $11 USD per tour.
Listen to a Riga Cathedral Organ Concert: Experience a unique performance by choirs and organ players in a more than 800-year-old cathedral, and see one of the biggest organs in the world, containing over 6,000 pipes. Considered the largest medieval church in the Baltic states, the cathedral currently operates as both a Lutheran place of worship, as well as museum. During Soviet occupation from 1939-1989, religious services were prohibited, and it was solely utilized as a concert hall. Concerts range from 20 minutes to 1 hour in length.
How to get there: Around a 20-minute walk from the ship.
Hours: Hours of operation may vary depending on the day of the week - your Trip Experience Leader will provide more information upon request.
Cost: Approximately between $12 USD-$23 USD per person.
Witness the UNESCO World Heritage-listed Riga Art Nouveau Museum: Containing collections of Art Nouveau artifacts made and used in Riga, this museum celebrates the city's unique architecture and is the only museum to focus on the Art Nouveau period in all of the Baltics. The centerpiece of the museum, which was once the lavish home of architect Konstantīns Pēksēns, is a series of rooms designed to portray a typical, upscale residence during the early 20th century, complete with art, furnishings, and even clothing. The aim of these displays is to preserve this unique artistic heritage, as well as educate the public and even carry out research on various pieces.
How to get there: Around a 20-minute walk from the ship.
Hours: Tuesday-Sunday, 10am-6pm.
Cost: Approximately $10 USD per person.