Day 7

Explore Visby, Sweden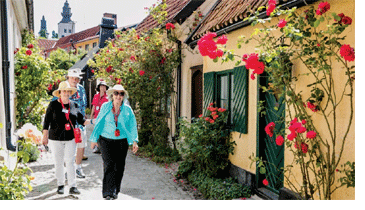 Breakfast: From 7:30am-9am onboard, with international and American options available.
Morning: We'll dock in Visby this morning, in a small port that larger ships are not able to access. Situated on the Swedish island of Gotland, Visby is considered the best-preserved medieval town in Scandinavia. Following breakfast, you have some free time to prepare for your walking tour.
Around 9:30am, we'll set off on a 30-minute walk to the Gotland Museum for a guided tour with a local expert. You'll delve into the rich history of the region as you view displays of pre-Viking picture stones, medieval wooden sculptures, and the world's largest collection of preserved silver treasure. Your local guide will provide insight on some of the museum's 400,000 collected objects that create a unique mosaic depicting medieval life in the Baltics.
Then, from about 11:15am-12pm, you'll continue with your local guide to begin a 1.5-mile walking tour of the historic town of Gotland. First, you'll take a stroll through the colorful botanical garden, followed by a walk through the narrow streets of the old town to enjoy towering medieval architecture. As you explore this town from the Middle Ages, your local guide will discuss what everyday life is like in Gotland, and provide insight into the national identity of Gotlanders and their relationship with the rest of Sweden. Now is the perfect time to ask questions about Sweden's local culture, traditions, and current issues. Perhaps your guide can provide personal insight on environmental issues like soil degradation, or the country's centuries-long tumultuous relationship with Russia.
After your tour, you're free to make your own discoveries from around 12pm to 1:45pm. Perhaps you'll want to witness the signature ringmur (ringwall) encircling the town since the 13th century. Reachable only by boat or plane, and beloved as a holiday destination for Swedes, the "City of Ruins and Roses" is rich with historical artifacts, earning it a designation as a UNESCO World Heritage Site. See its history unfold as its hundreds of warehouses and merchant homes tell the story of its heyday as a major port between Russia and Western Europe for the Hanseatic League.
You may also choose to visit a women's cooperative and talk with the members to gain a deeper understanding of the local culture and what its like to run and own a business in Sweden. The cooperative was established as a space for women to sell their artisan crafts, as well as food like homemade honey and jam and fresh fruit. Around 15 women, all Gotland residents, operate the store together and meet regularly to discuss new products to sell and hone in on quality assurance. You might take the opportunity to ask the women about what daily life looks like on this quaint island, or about their perspectives on how the cooperative has united women's independent businesses from all over Gotland.
If you'd like to pursue a more active afternoon, you may hike to Visby's upper ruins for a panoramic view of Gotland and the harbor perched along the Baltic Sea.
Lunch: You may choose to have lunch onboard around 1:30pm, or extend your free time and return to the ship for a later lunch around 2pm.
Afternoon: The afternoon is yours to relax onboard as your ship cruises toward Riga, Latvia. Rejoin your Trip Experience Leader in the lounge around 6:30pm for a Port Talk about Riga's past and present.
Dinner: Served from 7pm-8:30pm onboard in the ship's dining room.
Evening: You have the freedom to spend the rest of your evening as you wish. Perhaps you'll enjoy a nightcap at the bar or relax in the lounge.