Day 6

Klaipeda, Lithuania

Explore the Curonian Spit Klaipeda, Lithuania Explore the Curonian Spit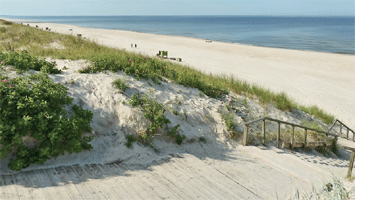 Breakfast: From 6:30am-7:45am onboard, with international and American options available. Morning: At around 8am, we'll ride by private motorcoach to Klaipeda's ferry terminal, arriving at around 8:30am, where we'll catch a 10-minute ferry ride headed to the Curonian Peninsula. Klaipeda is the gateway to a coastal stretch known as the Curonian Spit, a UNESCO World Heritage Site. This scenic area is separated by a protected lagoon on one side and exposed to the harsh Baltic Sea on the other.
Boasting 60 miles of curving coastline, this striking stretch of land has undergone quite a transformation throughout the last five centuries. Once a settlement of a now nearly extinct Baltic ethnic group, the Curonians (Kuršiai), the health of this natural environment quickly began declining due to significant human impacts, namely deforestation. As a result of this destruction, the miles of life-giving forests eventually gave way to lifeless dunes, which could no longer sustain the Kuršiai, and as a result, swallowed over a dozen villages. Today, thanks to a reforestation project aimed at stabilizing the dunes, the Curonian Spit has made a remarkable comeback, making it a prime location for outdoor activities such as bird watching.
After disembarking the ferry, we'll take a 15-minute bus ride to the village of Juodkrante, arriving at around 9am. Here, our Trip Experience Leader will help us keep an eye out for the cormorants that make their home here, searching for their daily meals in the waters surrounding this narrow strip of land (much to the chagrin of the local fishermen who are trying to do the same).
We'll then continue driving along the spit, taking in the scenic dunes that typify the local landscape as we make our way to the town of Nida, arriving at around 10:30am, where we'll have an hour free to rest and stretch our legs. At around 11:30am, we'll drive for about an hour back to the ferry terminal at the northern end of the spit, where we'll embark and return to Klaipeda. We'll return to the ship at around 1pm.
Lunch: Served onboard the ship from around 1:15pm to 2:45pm. The ship will begin sailing toward Visby, Sweden during our meal, lifting anchor around 1:30pm.
Afternoon: The afternoon is yours to relax onboard as your ship cruises toward Visby. Rejoin your Trip Experience Leader in the lounge around 6:30pm for a Port Talk about our next destination.
Dinner: Served from 7pm-8:30pm onboard in the ship's dining room.
Evening: You have the freedom to spend the rest of your evening as you wish. Perhaps you'll enjoy a nightcap at the bar or relax in the lounge.