Day 5

Explore Gdansk, Poland

Controversial Topic: Poland's paradoxical immigration stance with a Muslim migrant & former activist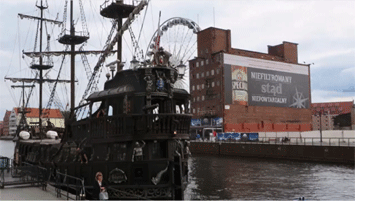 Activity Note: The guided tour of Gdansk will require approximately 1.5 miles of walking along cobblestone streets, requiring good agility and balance. If the Archaeological Museum is unavailable for our Controversial Topic conversation, our group will instead congregate at the Maritime Cultural Center and Museum, located just 5 minutes away on foot.
Exclusive O.A.T. Activity: Today's activities feature the Controversial Topic of immigration in Poland led by a Muslim migrant and former activist. This is an increasingly contentious topic in Europe - and especially - Poland, where 97% of the population consist of ethnic Poles. Our conversation will examine the issue from both a political and personal angle, providing an intimate lens through which our small group can glean insight. Read more about this activity below.
Breakfast: From 7:30am-9am onboard, with international and American options available.
Morning: Around 9am, we'll depart for the city of Gdansk, Poland - across from the very spot where World War II began - by motorcoach. Our discoveries begin around 9:30am alongside a local expert who will guide us through the Stare Miasto (Old Town). A maritime city that's existed for a millenium, Gdansk has fluctuated between great prosperity and tragic destruction - and Old Town still shows both wartime scars and rich architectural beauty. As we explore on foot for about 45 minutes, our local guide will explain what went into the reconstruction of the town following World War II and how it recovered to become what it is today.
We'll wander past the town hall and its Neptune Fountain, rumored to have once spouted Gdansk's trademark liqueur, Goldwasser, instead of water. Along the way, witness the city's many gates - including the Green Gate, Golden Gate, and Upland Gate. We'll also see the Monument to the Fallen Shipyard Workers, three 138-foot-tall steel crosses at the entrance to the city's shipyard. A sudden spike in food costs in 1970 led to mass riots throughout northern Poland that left at least 40 dead and more than 1,000 wounded. This monument was the first to commemorate the victims of a communist regime.
At about 10:45am, our walking tour will conclude at the Archaeological Museum, located along the banks of the Motlawa River. The building itself dates back to the 16th century, though much of it was destroyed during World War II and then later restored. The collections amassed here document and celebrate the cultural heritage of Poland, providing an all-too-relevant backdrop for our conversation about the Controversial Topic of immigration - perhaps the most divisive issue facing the country. To facilitate, we'll be met by an immigrant living in Gdansk, whose name we cannot disclose for his own safety. Our speaker has lived in Poland now for eight years and currently owns a business. He is a practicing Muslim who frequently feels his life is at risk - and he has reason to: Over the years, he has suffered verbal and physical abuse on the streets. In fact, he still receives threats on a regular basis. To combat xenophobia and racism, he lent his efforts to various NGOs, as well as a local immigrant support center, in the early years of his transition to Polish society. However, he recently pulled away from these organizations and now chooses to help immigrants on his own time, citing a lack of faith in institutions as a motivation for this shift.
Poland is the most ethnically homogenous country in Europe - 97% ethnic Pole, 2% European, and less than 1% non-European. At the height of the migrant crisis in 2015, the far-right Law and Justice party (PiS) took power, and since that time, the administration has deliberately stoked the fires of intolerance, orchestrating campaigns that bear such slogans as "Poland for Poles" and "Pure blood, clear mind." In fact, Prime Minister Mateusz Morawiecki has openly declared his party's ideology, saying in a 2017 interview with a Catholic television station, "We want to reshape Europe and re-Christianize it." The government even went so far as to order new passports to include the phrase, "God, Honor, Motherland." Unfortunately, polls show that this rhetoric has pervaded the minds of most of the nation: 70% of the population opposes migrants from the Middle East and Africa.
And visa issuances reflect both this agenda and sentiment: In 2017, 85% of visas granted to foreign workers went to people from Ukraine - an overwhelmingly white, Christian country. Contrastingly, Poland has fiercely resisted opening their arms to refugees coming from Muslim majority and African countries - even though, as a member of the European Union, they are technically obligated to do so. Loopholes and strategic bureaucracy have enabled them to stall the distribution of these visas long enough for "undesirable" immigrants to be allocated to other nations. Even for white, Christian refugees, the average wait time for a visa is two years. Of course, the irony in all of this is that Poland has benefited immensely from the European Union's Schengen borders, pocketing billions of dollars in payments from the hundreds of thousands of Polish workers who freely migrate to other countries in the union. In fact, since 2004, more than 3 million Poles have permanently immigrated to other European Union countries in search of a better life.
But obtaining a Polish visa is just the first hurdle - cultural assimilation is another. Unlike most other E.U. nations, Poland's government has no integration model in place, leaving immigrants to navigate the system utterly alone. For instance, language classes are not provided - making it near impossible for them to understand the immigration support center's website, written entirely in Polish. Former Gdansk mayor, Pawel Adamowicz, strove to improve these less than welcoming conditions by developing an integration model together with the immigrant support center in 2015. The plan gained a bit of traction, but before it could go any further, Adamowicz was stabbed to death during a live charity event in January 2019. The motive is unsubstantiated, but many attribute the attack to his liberal views.
Throughout our 1-hour conversation, we'll examine the policies and social conditions that led to such a right-wing Poland, and we'll also have about 40-minutes to ask our speaker any questions we may have. Perhaps you'd like to know more about the discrimination he's experienced, or maybe you're wondering how he helps immigrants adjust to local culture.
Following our discussion around 11:45am, we'll have about an hour to explore on our own. Then, we'll reconvene around 12:45pm for lunch at a nearby restaurant.
Lunch: Served at a local restaurant around 12:45pm, featuring local specialties.
Afternoon: Following lunch around 1:45pm, we'll board our motorcoach and depart for the 15-minute drive to the Solidarity Center, arriving around 2pm. This institution serves as a museum and library documenting the history of Solidarity, the Polish trade union, and other opposition movements of Communist Eastern Europe. There, a local guide will help us understand how Lech Walesa spearheaded the Solidarity movement as a labor activist. We'll also examine how he is viewed by the Polish population today. Walesa, who worked as an electrician, helped establish the Solidarity trade union in 1980. Solidarity is considered by many to have contributed largely to the fall of communism in the country, making its mark as the first independent workers' union in the Eastern Block that ultimately helped transform Poland into a democratic nation.
Around 3:30pm, we'll make the 30-minute drive back to the ship and set sail for Klaipeda, Lithuania, overnight. After about two hours of free time to relax onboard, you'll rejoin your fellow travelers and Trip Experience Leader for a Port Talk on Klaipeda.
Dinner: From 7pm-8:30pm onboard in the ship's dining room.
Evening: You have the freedom to spend the rest of your evening as you wish. Perhaps you'll enjoy a nightcap at the bar or relax in the lounge.