Day 4

Spend A Day in the Life of the Danish island of Bornholm

Captain's Welcome Dinner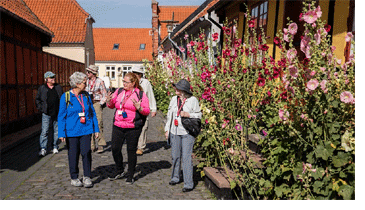 Activity Note: Depending on availability and departure, you may experience a number of A Day in the Life experiences, including learning about the art form of ceramics with local artists, visiting a family-owned organic farm, exploring a family-owned apple cider production facility, visiting a locally-owned berry farm, or enjoying time at a family-owned micro-brewery, followed by discovering the marine center of Tejn harbor.
Breakfast: From 7:30am-9am onboard, with international and American options available. Coffee and pastry are always available for early risers beginning at around 7am.
Morning: Because of our ship's small size, we'll be able to dock in Ronne this morning, a port town on Denmark's island of Bornholm. Strategically located in the Baltic Sea—just east of Denmark, south of Sweden, northeast of Germany, and north of Poland, claim to this northerly isle has been disputed for centuries. For most of this time, it was ruled by Denmark, but also by Sweden and Lübeck, Germany. Today, boasting a population of just under 40,000, the primary industries on Bornholm are dairy farming and arts and crafts, namely glass production and pottery using locally sourced clay.
Our day's discoveries include A Day in the Life experience on this quaint, breezy island, where we'll first split up into smaller groups to make for an intimate morning. Your day may be spent learning about the art form of ceramics with local artists, visiting a family-owned organic farm, exploring a family-owned apple cider production facility, visiting a locally-owned berry farm, or enjoying time at a family-owned micro-brewery, followed by discovering the marine center of Tejn harbor.
For those who visit the apple cider production facility, our A Day in the Life begins when we meet with local resident Knud Andersen at his home near the town center (if Knud is unavailable, we will meet with another resident community leader). Knud is a former mayor of Bornholm, serving from 1990-2002, as well as a former municipal council member. As we get to know him this morning, we'll learn about a few of the local initiatives he spearheaded, including policies which enabled the development of organic agriculture. He was also instrumental in transforming the local economy in the early 1990s. Prior to that time, fishing was the major industry here; however, when the European Union introduced fishing quotas, it no longer became a viable way to make a living. Thousands of locals lost their jobs, but thanks to the leadership of those like Knud, other industries—like glass production—eventually emerged. Today, Knud remains a member of a local island committee which aims to support Bornholm entrepreneurs and small businesses.
At about 10:45am, we'll say goodbye to our new friend and board our private motorcoach for a 15-minute drive to Avijll Apple Cider farm, where we'll meet husband and wife owners Alex and Line. This activity is quite fitting, as "Avijll" in an old Bornholm dialect actually translates to "apple," underscoring the enduring tradition of this agricultural practice. Upon arrival around 11am, Alex and Line will welcome us to their property and provide an introduction to their facilities, as well as the history of the operation. Situated in the center of the island and featuring views of nearby Ekkodalen, Avijll is not only home to a cider production house, but also a brewery, bed and breakfast, as well as vineyards. As we delve into the farm's history, we'll learn how Line's great grandfather was also in the business of apple cider-making, formerly owning a nursery and orchard in the village of Allinge. As she got older, Line was inspired to stay true to her roots and carry on this tradition. We'll also hear how she met her husband Alex, who brings extensive knowledge of beer brewing, fermentation, and bread-baking to the business. Together, they founded Avijll in 2017, and for nearly a year, commuted between Bornholm and their former home of Copenhagen before permanently making the move to the island.
Around 11:15am, we'll embark on a brief walking tour around the 24-acre property, led by our hosts. While we walk, we'll take in views of the idyllic grounds, dotted with pastures, meadows, forests, ponds, bogs, and a number of lakes. We'll also hear how Alex and Line strive to run the grounds according to biodynamic and permaculture cultivation principles—in fact, they describe their methods as being "close to nature." You can imagine that on an island as small as Bornholm—occupying an area of just 227 square miles—sustainability is crucial for the survival of local businesses; hence why it is at the heart of every agricultural operation here. As we explore the grounds, we'll also notice the sizeable herd of cattle, sheep, and chickens, primarily kept for personal use.
After getting acquainted with the property, we'll receive a thorough overview of the apple cider production process, beginning with an introduction to the apples themselves. Alex and Line cultivate a number of Nordic varieties, some of which are rather common and others which are exceedingly rare. All of them boast distinctive taste profiles, carefully curated and processed to make their signature cider. We'll then step into the production facility, where Alex and Line will walk us through the cider-making process. We'll see how the apples are first macerated, or softened by soaking in a liquid, then fermented slowly over time. This first fermentation is what gives the cider its aroma and flavor. Then, the cider is fermented for a second time in bottles, which then causes bubbles to develop. As we learn about this process, we'll observe the machinery Alex and Line rely on to maintain the quality and craftsmanship for which they're known. We'll also have an opportunity to sample several varieties of ciders and ask any questions we may have about production. Following this insightful activity, we'll then have the opportunity to help Alex and Line with several chores around the farm at about 11:30am. Perhaps we'll pick apples, assist with production, or even help care for some of the animals. Then around 11:45am, we'll join our hosts in preparing for the lunch we'll all share together. We may assist with harvesting and chopping vegetables from the garden, or retrieving eggs from the chicken coop.
Lunch: Around 12pm at Alex and Line's farmhouse, featuring farm-fresh, seasonal fare.
Afternoon: Around 1:30pm, we'll bid farewell to our hosts for a 15-minute drive back to the ship. The remainder of the day is for your own discoveries in Bornholm (considered the "Pearl of the Baltic Sea" because of its colorful scenery)—ask your Trip Experience Leader for recommendations. This island has long been a popular vacation spot for the Danes, but not one that has been discovered by international travelers. Many locals also call Bornholm the "sunshine island" because it gets more sun than anywhere else in the region—all the more reason to take a stroll through its winding streets and soak in the sites.
There will be shuttle buses provided throughout your free time to bring you to nearby towns you may be interested in exploring during your discoveries of Bornholm. Perhaps you'll want to explore the fishing town of Gudhjem. Perched high on a hill, you'll find panoramic views of the Baltic Sea as you amble through its quiet neighborhoods. Or, you might rather explore Svaneke to get a sense of small-town life in Denmark, from the town's rose-hued church to its colorful harbor. You may get the chance to chat with locals and learn about their businesses, or walk through the old market square.
Around 6:30pm, you'll gather for a Captain's Welcome Cocktail before a Port Talk on Gdansk—your next destination.
Dinner: From around 7pm-8:45pm, gather in the ship's dining room for the Captain's Welcome Dinner. While the dress code at mealtimes is always relaxed and smart casual, some travelers opt to wear a day dress or slacks for the Welcome Dinner. As they say in Scandinavia, "smaklig måltid" ("enjoy your meal").
Evening: At leisure. Perhaps you'll enjoy a nightcap at the bar.