Day 2

Arrive Copenhagen, Denmark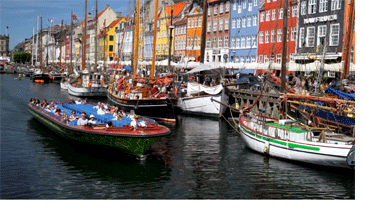 Afternoon: Upon arrival in Denmark, you'll be met at the airport by an O.A.T. representative or a driver and transferred by motorcoach or car to your hotel, around 30 minutes away. Upon arrival, you will receive your room assignments, and check in (regular check-in time is after 3pm). You'll be joining your fellow travelers who took the Copenhagen, Denmark pre-trip extension.
We stay for one night in a centrally-located hotel. Typical rooms include a minibar, safe, air conditioning, wireless Internet, and a private en suite bathroom.
Based on your arrival time, your Trip Experience Leader will offer multiple opportunities to join an orientation walk to get acquainted with the area around the hotel and some of the sites you may choose to return to in your free time. Stroll by Amalienborg Palace, where the Danish royal family resides. Constructed in 1760, the area consists of a cluster of four palaces, two of which are open to the public. Your Trip Experience Leader will speak to the history of the Danish monarchy there, as well as what royalty looks like in the country today - you can still witness the changing of the guard surrounding the premises, and the family still uses many of the reception rooms to greet leaders from around the world.
Make your way to the glistening waterfront for a view of Maersk Opera House, a feat of modern architecture, as well as of the recycling plant. Denmark is considered a forerunner in green energy and waste management, and your Trip Experience Leader will provide some perspective on the history of the industry in Copenhagen and how it has affected residents' daily lives. The waste-to-energy plant, in fact, includes a year-round ski slope climbing wall, so visitors can experience a blend of education and recreation.
Of course, you'll also walk past colorful Nyhavn as well as the many nearby grocery stores, pharmacies, and ATMs surrounding your hotel. You can explore Copenhagen on a deeper level with a number of suggested free time activities. If time allows today, you might take an approximate one-hour canal ride around the city.
Around 6:15pm, join your fellow travelers and walk to a local restaurant about 15 minutes away from the hotel.
Dinner: Enjoy a Welcome Dinner from 6:30pm-8:30pm at the restaurant, which features local Danish fare.
Evening: Walk back to the hotel for the evening following dinner around 8:30pm and rest after your journey.
Freedom to Explore: Make the most of your explorations in Copenhagen on these off-the-beaten path activities. These recommendations are designed by our team of local experts with women travelers in mind.
Walking with your Trip Experience Leader, explore the Carlsberg Glyptotek: Discover this museum dedicated to the artistic collection of Carl Jacobsen - the son of Carlsberg Breweries founder - including his antique sculptures with influences from several ancient Mediterranean cultures, such as Rome, Greece, and Egypt. Originally displayed in the garden of Jacobsen's private villa, his collection grew so much that an entire museum space was necessary to accommodate all the pieces. In addition to the sculptures, which are the focal point of the museum, art lovers will also appreciate a large collection of paintings from French impressionists, post-impressionists, and the Danish Golden Age - with works by Monet, Degas, Jacques-Louis David, van Gogh, and Bonnard. Visitors usually spend two to three hours here and end their tour by unwinding in the winter garden.
How to get there: About a 15-minute walk from the hotel with your Trip Experience Leader.
Hours: 10am-5pm, Tuesday-Sunday; 10am-9pm, Thursday.
Cost: About $11 USD per person.
Stroll through the city's colorful Botanical Garden: Located in the heart of Copenhagen, this garden famously features the largest collection of living plants in the world, covering more than 10 hectares with complex glasshouses dating back to 1874. The garden serves as both a recreational space and a place for research as it is part of the University of Copenhagen Faculty of Science. There are more than 13,000 species housed in the garden, which are all arranged for easy viewing. Visitors will find 600 species of Danish plants, 1,100 species of perennial plants, 1,100 species of annual plants, and rock gardens including plants from mountainous areas in Central and Southern Europe and Conifer Hill. The garden is perfect for those wishing to escape the bustling city and enjoy a peaceful afternoon surrounded by nature.
How to get there: About a 10-minute walk from the hotel.
Hours: 8:30am-6pm, daily.
Cost: About $6 USD per person.
Delve into the world of 18th-century European art at the David Collection museum: Peruse the notable art collections once owned by C. L. David, a prominent lawyer in Denmark, which include masterpieces from the 8th to the mid-19th centuries. This private collection is displayed in what was David's home and since his death in 1960, the museum has continuously acquired new pieces. The three main permanent collections are the Collection of Islamic Art, the Collection of European 18th-Century Art (which is now complete), and the Collection of Danish Early Modern Art. The Islamic Art Collection is the most well-known and features pieces from an expansive area that spans from Spain to China (west to east) and Uzbekistan to Yemen (north to south). From furniture to silverware to paintings, discover "the most exclusive museum in Denmark," as described by a Danish newspaper.
How to get there: About a 10-minute walk from the hotel.
Hours: 10am-5pm, Tuesday-Sunday; 10am-9pm, Wednesday.
Cost: Free.