Day 12

Budapest, Hungary

City Tour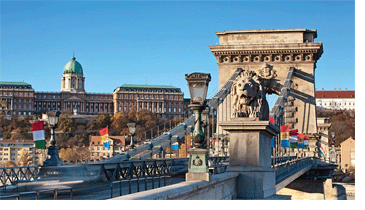 After breakfast, you'll set out to explore Budapest on an included city tour. Budapest is situated on both sides of the Danube River, with Buda (the right bank) to the west and Pest (the left bank) to the east. I
n Pest, you'll see Heroes' Square, with its Millennial Column set off by equestrian statues of the ninth-century Magyar leaders who conquered this region in the ninth century. The adjoining colonnade displays more statues of kings, dukes of Transylvania, and liberty fighters who influenced the history of Hungary.
As your tour takes you over the Danube bridges into Buda, you can see how the imposing Parliament Building dominates Pest on the opposite side of the river. While in historic Buda, you'll visit Castle Hill, where a massive castle, including its protective ramparts, has been designated a UNESCO World Heritage Site. Mostly destroyed during World War II, the Royal Palace has been lovingly restored, approximating its former splendor, and now includes the Hungarian National Gallery.
In your free time, you can also visit the Church of Our Lady, formerly used for the coronations of Hungarian kings. Its popular name of Matthias is in recognition of the Renaissance king who ruled in the 15th century and whose heraldic sign - a raven - is displayed on one of the towers of the church. Dating to the 13th century, the structure is an interesting mix of architectural styles used during reconstruction of the building at different times in its history. Note that during the 150-year Turkish occupation of Hungary, the church served as Eski Djami (Old Mosque) for the Turks. Inside the church you can view art of Bertalan Szekely and Karoly Lotz, 19th-century Hungarian painters.
After lunch onboard, you'll enjoy free time to relax or explore Budapest on your own.
Budapest offers some particularly fine museums and galleries. The Hungarian National Gallery contains excellent examples of Hungarian art from the Middle Ages on. The collection is comprehensive and somewhat massive, so give yourself plenty of time to enjoy it. Parliament, the Museum of Contemporary Art, and the Budapest History Museum are also worth a visit.
Tonight, dinner is onboard..