Day 10

Novi Sad, Serbia

Optional Sremski Karlovci Tour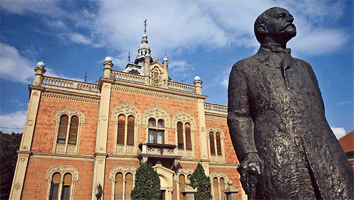 After breakfast this morning, enjoy an included tour of Novi Sad, Serbia's cultural hub and second-largest city. The beauty of the city is in its nameóNovi Sad in English translates to "new garden." Nestled along a bend in the Danube River, Novi Sad is peppered with myriad historical and cultural monuments, verdant parks, bustling squares, a thriving pedestrian zone, and a history-rich fortress standing tall on the right bank of the river.
After lunch onboard, the remainder of the afternoon is at leisure to further discover Novi Sad on your own. Perhaps you'll choose to explore the Petrovaradin Fortress, built between 1692 and 1780 by the Austrians as a defense against invading Turks. Declared a historical monument 200 years later, this partially restored fortress is now a museum. Delve deep into its strange past, including a twelve-mile network of underground tunnels, a mysterious well with supposed links to black magic, and an iconic clock tower on which the size of the minute and hour hands are reversed.
Or, join us on an optional excursion to Sremski Karlovci, a culture-rich town just ten miles southeast of Novi Sad. Spend the afternoon exploring the town, including visits to a beekeeping museum and a 300-year-old wine cellar.
This evening, enjoy dinner at a local restaurant.