Day 9

Belgrade, Serbia

Gypsy Women Discussion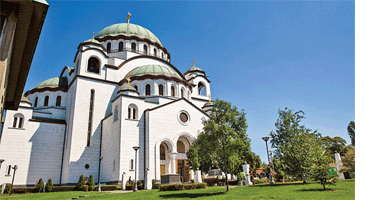 Early this morning, we'll arrive in Belgrade, the capital of Serbia (and former capital of Yugoslavia), one of Europe's oldest cities, and the center of political and cultural life in the country. Belgrade and the rest of Serbia are just now emerging from many years of repressive rule, with a welcoming spirit for visitors.
Enjoy a full morning in Belgrade, beginning with an included tour around this grand old city, which was built centuries ago along important east-west trade routes and used as a gateway to Western Europe from the Balkans. You'll see the Town Hall, St. Sava - the largest Orthodox cathedral in the world - and the Kalemegdan fortress. You also explore the Tito Memorial, erected to honor Josip Broz Tito, who held Yugoslavia together as an independent country in the turmoil that followed World War II and the subsequent Cold War. After your tour, enjoy lunch onboard. Please note: The Tito Memorial is closed on Mondays.
After lunch back onboard the ship, explore the city on your own - you'll have a shuttle bus to and from the city available for your use. Your Program Director will have suggestions for various local sights and activities for learning and discovery.
This evening, join a local gypsy woman for an exclusive Discovery Series discussion. She'll provide insight into what her day-to-day life looks like, the stigma surrounding gypsy women, and how she's breaking tradition and paving the way for a new generation in this dynamic country. Enjoy tonight's dinner onboard.