Day 5

Constanta

Danube

Black Sea Canal transit

Captain's Welcome Dinner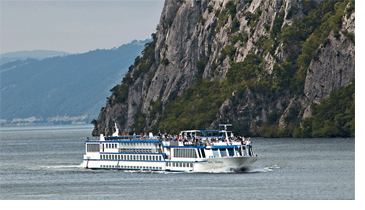 This morning, enjoy a guided tour of Constanta, a Romanian Black Sea port that is the country's oldest continually inhabited city. Dating back more than 2,500 years, Constanta boasts a wealth of fascinating architecture and history. Myth holds that Jason and the Argonauts stopped here after recovering the legendary Golden Fleece. On your included tour, you'll explore the beguiling city center, the Cathedral of Saints Peter & Paul, the mosaic-paved Roman Edifice of Tomis, the Art Nouveau Constanta Casino, and other highlights of this beloved city.
Following lunch, your Danube and Black Sea River Cruise begins by sailing into the Danube-Black Sea Canal, a 40-mile engineering marvel begun in 1949, but not fully completed until 1987. You'll pass through the canal's lock system and cruise by the inland port towns of Murfatlar and Medgidia.
This evening, celebrate the start of your Eastern European odyssey at the Captain's Welcome Dinner.