Kevin Kreuzer - Tour Director
I was born on the 20th of February 1979 in Freudenstadt, a town located in the Black Forest. My father worked as a police officer, he is retired now. My mother is still a school secretary and does not like the recent change of the retirement age from 62 to 65 too much, because a) my father is retired and enjoying it (she has got to work for another 4 years) and b) they both got the travel bug, just like I do.
After 6 years of studying at the universities of Eichstatt/Bavaria and Trier I obtained my MA in Sociology, Social Psychology and Educational Science and started to work in the human resources department of a company operating throughout Europe.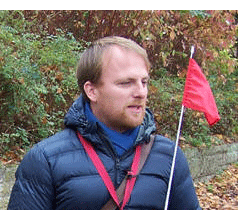 I nearly went crazy sitting in an office all day. I love to be outside, I hike, I do rock climbing, I surf, I play badminton and of course, needless to say, I played soccer for 11 years. I guess what I am trying to get across is, that I don't like to sit for too long.
I have been visiting Finland, England, Sweden, Italy, France, the Czech Republic, Belgium, Netherlands, Luxembourg, Switzerland, Scotland, Denmark, Spain, Portugal, South Africa, Swaziland, Morocco, New Zealand, Dominican Republic, Fiji and Indonesia just to mention a few. I have even been to the DDR (German Democratic Republic) when it still existed and not to forget, I have visited your beautiful country too! However I am not sure if that counts. I was 16 years old and it was a student exchange program with a school in Butte/Montana. So I saw Atlanta for one day on a stop over and Butte for another 3 weeks. But most importantly, I loved it! I also love to come home after having traveled for a while. It makes you look at your own country in a different way. And, I appreciate the little things I am accustomed to even more when I am back home. Home is now the beautiful city of Basel in the three country corner of Switzerland, Germany and France.
To make a long story even a little longer: I love to meet new people and show them around the places where I grew up and lived and tell them about life in Europe. Being a program director is simply the perfect match for me!